Luxury Inclusions
Are Our Standard
With the most sought-after luxury finishes included as standard in every home, the buying process is effortless and stress-free.
Video Tour
Gourmet Kitchens
When an artful place to cook enhances your existing good taste.
Supersized Grand
Kitchen Island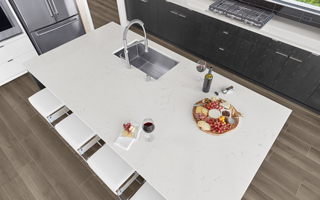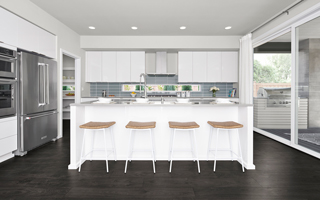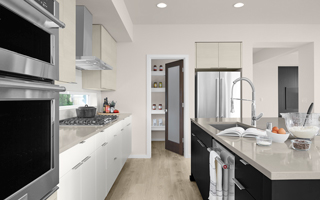 This gourmet Kitchen command station is living proof that there is no such thing as too much space in a MainVue home. The sweeping surface of your ultimate supersized chef's island is as ready for show-off entertaining as it is for practical day-to-day projects.
Trust in extra-thick 3cm Quartz countertop, finished by flat polished edges
Adore company from this centered hub and its guest-facing sink, ideal for host-friendly conversation and countertop convenience
Revel in balanced arrangement with deep countertop overhang for roomy barstool seating
Bank on copious under-counter storage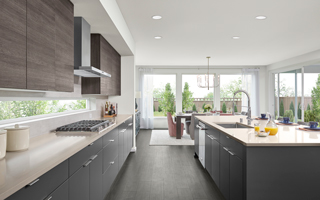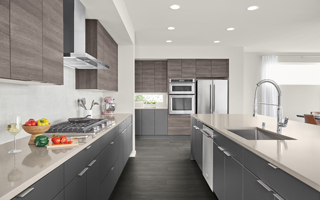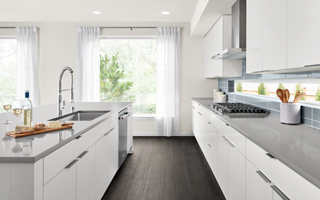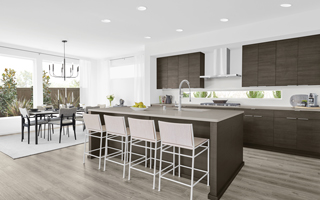 Chop, mince, cleave - or just effortlessly serve. Elegant nonstop 3cm Quartz surface the continuous Kitchen countertops and supersized chef's Kitchen Island-top for detailed meal prep - and entertainment fun.
Showcase attractive, low-maintenance and incredibly durable stone surface
Have faith in inherent anti-microbial, germ-impenetrable qualities
Prepare meals atop a reliable heat-and scratch-resistant surface
Start and complete projects on stain-resistant, non-porous surface
European Frameless
Cabinetry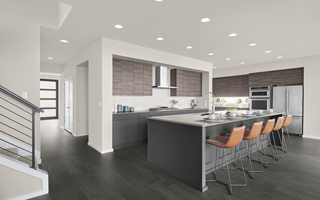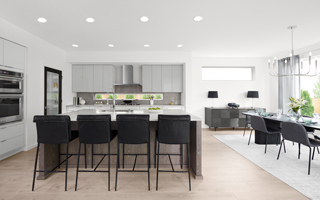 Our European-style frameless cabinets are so beautiful to open and close that it's more fun than chore to place dishware and utensils inside. Equally innovative and timeless, stylish storage with full overlay doors and drawers create a custom luxury look and finish that sets the stage for your stunning Kitchen.
Select from high gloss, precisely painted, and richly textured wood veneers
Discover reliable soft-close function with concealed full-extension drawer glides and discreet door hinges
Showcase sleek, stylish satin nickel handles and knobs
Rely on durable fade, and scratch-resistant surface
Expanded storage space with extended 39-inch-tall upper cabinets
Depend on adjustable, solid, white and easy-to-clean interiors
Stainless Steel
Wall Hood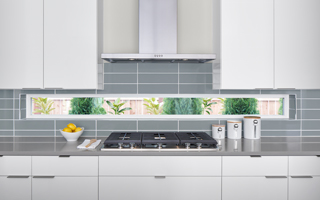 Whip up a frying, roasting or baking storm: your Stainless Steel wall hood can handle it. It's devout in its purpose: to be as attractive as it is fiercely functional.
Select from three powerful fan speeds
Focus on cuisine preparation with integrated lighting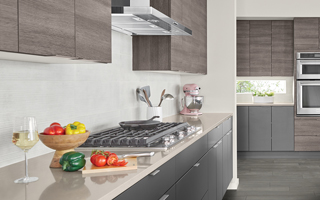 Show off your artistic flair with full-height stylish tile backsplash selected to complement each designer-palette color scheme. Barely lift a finger to maintain this durable and elegant easy-to-clean surface.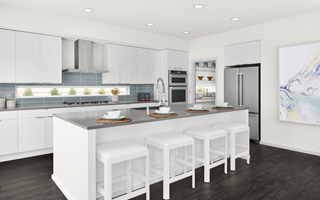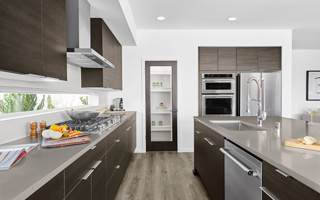 Soak up all the natural light that bathes the Kitchen through MainVue's unique window splashback.*
KitchenAid 36"
Gas Cooktop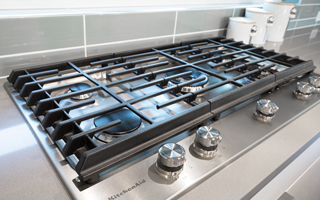 Look like a professional but still feel as if you can make it up as you go along with the KitchenAid 36" gas cooktop. If this efficient 5-Burner appliance doesn't capture your heart, the Stainless Steel finish will.
Fine-tune using Even-Heat™ - a 20,000 BTU torch burner with a small flame for delicate simmering and a larger one for distributing high heat across an entire pan
Watch the knobs light up to deliver an eye-catching accent with reassuring LED lights, letting you know when a burner is in use
Enjoy your cooktop's attractive appearance with full-width cast-iron grates, enhancing easy cookware movement around the entire cooking surface
KitchenAid Combination Wall Oven and Microwave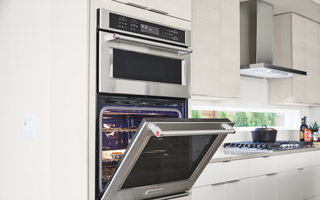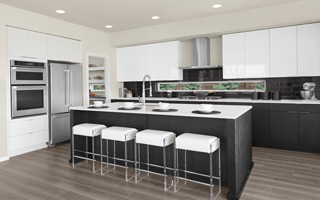 Feel your "what's-for-dinner" heart inspired by this 30-inch professional caliber Stainless Steel combination wall oven and microwave. With its bold blend of style and sleek touch, reheating leftovers and designing masterful menus will never feel the same again.
Increase cooking speed on the upper-oven/microwave using the convection cooking feature
Ensure consistent heating and even cooking with lower oven's Even-Heat™ True Convection technology
Benefit from the lower oven's interior light in beautiful cobalt blue enamel finish for added delight and easy-to-clean surface
Sleek, Chrome Kitchen
Sink Faucet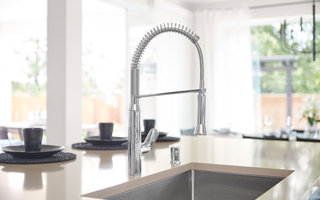 Engineered for a fusion of form and function, this Chrome-finished Grohe single-handle, dual-spray kitchen faucet is striking to the eye – and strikes your target with spot-on water direction. Rinsing rarely felt better.
Glide ultra-smooth handle motion with SilkMove's™ features, ensuring precise water flow and temperature control
Clean effortlessly with StarLight's Chrome finish, promising longer-lasting shine with built-in resistance to scratches, tarnish and buildup
Expand faucet head and swivel 360 degrees for extra reach and wider-when-needed cleaning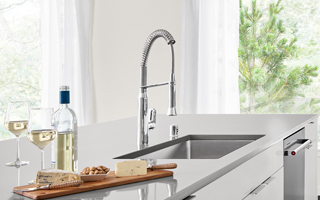 Manage simple, scour and tidy-up handwashing in this sleek Stainless Steel sink. Its single oversized bowl makes cleaning large items so much easier.
Admire square-edge detailing that aligns with contemporary and streamlined details throughout the space
Enjoy extra sink protection with sink's polished Chrome bottom grid
Assure cleanliness and hygienics with Stainless Steel finish that doesn't harbor bacteria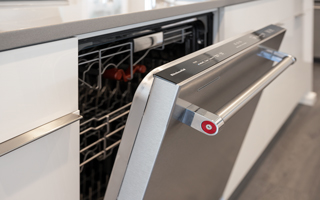 Watch plates shimmer and stemware sparkle after powering up this efficient 24-inch built-in KitchenAid dishwasher. Choose from five cycle options and a sanitize mode with this energy saving Stainless Steel appliance.
Wash smaller items on third-level, easy-glide rack
Fill large-capacity loads thanks to tall design
Select your favorite cycles using the concealed easy-access control pane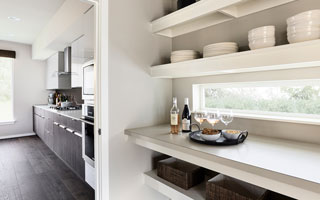 Find your ultimate spot to put practicality in its place and organization into your sense of order. Everything – from Kitchen necessities to special appliances - is easier to access in the discreet Butler's Pantry.*
Stack groceries on abundant melamine solid shelving
Trust in durable laminate countertop
Light up your extended work surface with flush-mount LED fixtures, in brushed nickel
Whip seamlessly between handy storage and nearby Kitchen work areas*
Conceal storage behind frosted glass door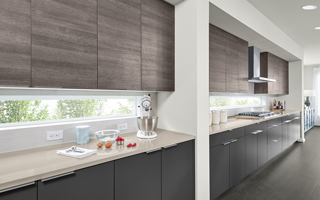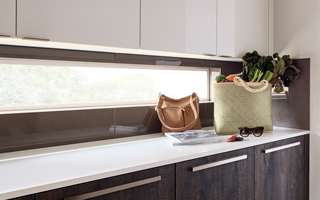 Where would your Kitchen and your family celebrations be without the bonus and bounteous space afforded by the Grand Butler's Pantry? You will never have to wonder with this functionally flawless Kitchen extension designed for both storage, stylish service and meal preparation.*
Bask in designer-tile backsplash, selected to complement designer palette color scheme. Durable trend-setting tile doubles as an easy-to-clean surface and a sophisticated, textured accent defining your sense of elegance
Welcome natural light, illuminating this sensible space with sophistication, through MainVue's unique window splashback*
Depend on consistency of wall and base cabinets to complement Kitchen and designer color scheme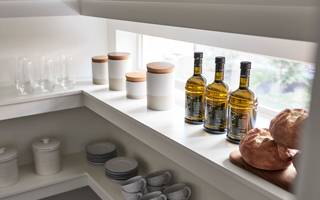 Discover extra shelving when you need it most for extended storage.*
Organize everything from dry goods to pet foods and more on ample melamine solid shelving
Target task lighting with a flush-mount, brushed nickel LED ceiling light
Move conveniently between Pantry supplies and nearby Kitchen work areas*
Conceal storage behind a frosted glass door*
Readily accessible, this powerful 1/2 horsepower sink disposal pulverizes residual waste from food preparation in the blink of an eye.
Energy Efficient LED Lighting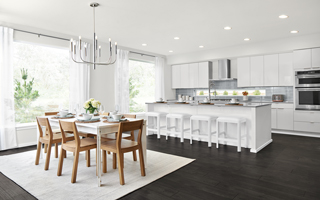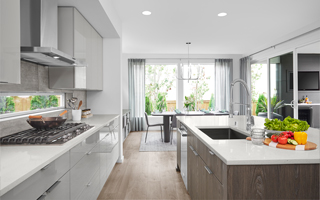 Illuminate your MainVue Kitchen with plenty of carefully placed LED, flush-rim fixtures throughout.
Find Your Facade
The interior of your home says so many things about you, but it's the exterior of your home that makes the most impressive first statement.
Discover the MainVue facade collection to find your facade.
Explore All Facades
Find Your Color Scheme
Explore MainVue color schemes designed by a team of international professionals. Find what fits your personality, design flair and your unique style of living.
Color Schemes